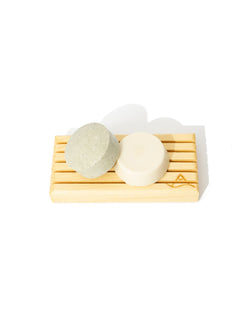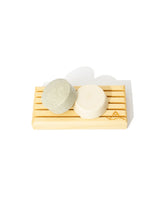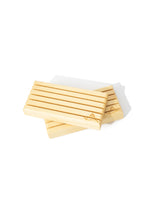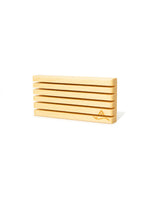 Storing and caring for the bars is important. 
We recommend that in-between washes, you store the bars on our wooden dishes, as this will allow air to circulate around them and keep them dry. 

Place the dishes and bars in a dry location away from water.
One dish will fit one shampoo and one conditioner. Our brand is laser engraved on the dish the colour varies from one dish to another depending on the wooden grain. 
Dishes are handmade in Canada.
I love these high end hippie products! After every use, my hair feels better and better!
Thanks so much for your feedback Elizabeth! A
Great product
I was surprised by the results. My hair no longer feels weighted down by heavy products.
Thanks so much for taking the time to leave a review Marci! We really appreciate it and are delighted the products work so well for you.
So good
I noticed a difference in my hair after one use. I am 5 months postpartum and my hair was unbearably dry and brittle, and I'm not even kidding it is transformed after using this for about 6 weeks (though like I said, I noticed the change right away!). Hair is so much healthier feeling/looking, more manageable. I love it and I just purchased 2 more sets before the price doubles- super disappointed about that happening as I'm not sure I can purchase at that price, but that is why I stocked up a bit! My bars are still a good size but my conditioner is definitely going faster than the shampoo. Smells great and lathers easily too. Very happy with it.
Thank you so much for taking the time to leave a review, we really appreciate it! We are delighted to hear that our products are working so well for you and your hair. We're sorry to hear that you were disappointed with our new prices. We feel the pricing still provides great value considering how long the bars last (1 bar is equal to 2 250ml bottles), they are hand crafted using clean ingredients and they provide professional results. We've also been able to implement sustainability programs like TreeEra and have a new minimum free shipping with a purchase of a set.
We deeply appreciate all of your support and hope you will keep following us in the future. We will still be giving tips and tricks for hair care and wellness. Join our email list for insider offers.
Love it
I have gray hair and I am loving the shampoo and conditioner. I also order the holder and like how everything is contained.
Love it
So far it is working great! I used to use Kevin Murphy shampoo and find this doesn't feel so heavy on my hair.