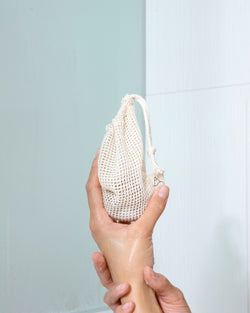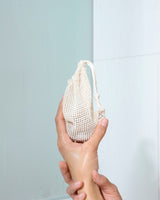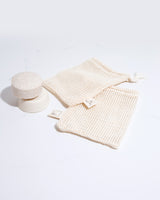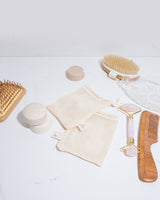 Perfect for travel, storage and to get every last bit out of your shampoo bar.  
Once a shampoo bar gets small,  place in the bag and continue to use, this will prevent the loss of any pieces.
Machine wash in cold water and air dry. Natural dyes and colorants will stain the bag.
As a storage option, hang on a hook in the shower away from direct water stream.  Allowing bags to dry in between uses will prevent mold build-up on the bags.
This product was a special collaboration with The Market Bags, handmade in the Okanagan. 100% organic cotton. 

Perfect
Perfect little bag for so many things but happy it stores my shampoo bits and makes it useful again
So handy
The soap lathers very well within the bag. It's so useful! I've got one for all my natural soap ends!
Thanks Tamara, Love how easy you find it to use!!
Storage bag
Great little bag to store the smaller pieces of shampoo.
Such a great idea!
Love this! It's the perfect way to use the small bar down to the last bit!
Great little bags
I bought the little mesh bags for my shampoo bar and my dad shampoo bar, which was actually falling apart! When you put the soap bar in the bag and leather in your hair it still gives a great lather I'm very impressed with the bags! They also dry quite nicely if you don't have them totally exposed to water while not in use.
Thanks for the feedback Barb!! Happy you and your dad like them!