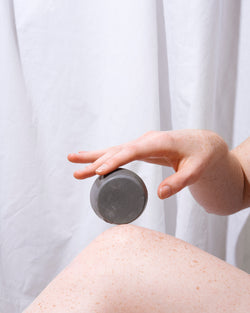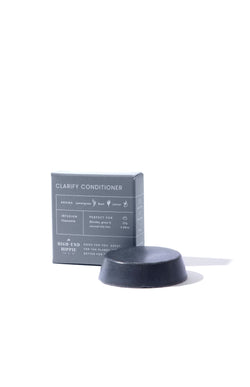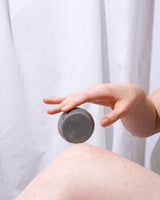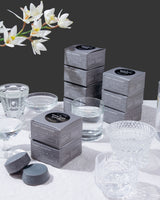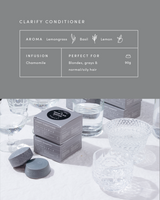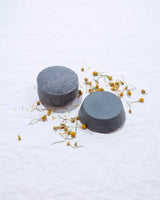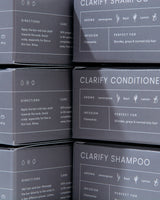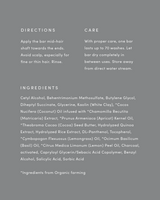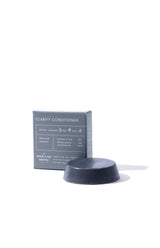 Blondes and grays we got you covered with the detoxifying and toning properties of activated charcoal combined with the natural lightening abilities of chamomile keep your hair looking vibrant and soft. This conditioner is ultra-rich and goes on creamy. It can be used as a deep conditioning treatment, as needed. Our unique anti-frizz technology will leave the hair silky and soft. Hydrolyzed quinoa and rice proteins protect colour treated hair and enhance the hair's natural shine and body. 
With proper care, one mini bar last up to 30 washes & one full size bar last up to 65 washes.

Aroma | Lemongrass, Basil & Lemon
Herbal Infusion | Chamomile
Perfect for | Blondes, Grays, Dandruff, Build up, Normal/Oily Hair & Colour Safe


Love the clarifying shampoo
I am a everyday hair washing kind of girl. My hair is just greasy - not much I can do about it. The clarifying shampoo allows me to get an extra day! Plus it feels good to eliminate unnecessary packaging.
Thank you so much for taking the time to leave a review, we really appreciate it! We are delighted to hear that our products are working so well for you and your hair.
Amazing conditioner! Silky hair and its smells so good.
I have oily hair, so was hesitant to try a conditioner as it usually weighs my hair down. This conditioner is smooth, light and has a great scent. A friend giving me a hug said - Wow, your hair smells great.
My daughter, age 12, uses it as well and her hair is straight to her waist. She loves it - reduces fly away hair and is smooth to touch.
I have never used a bar shampoo or conditioner before. There products are amazing. I am happy to do my part for the planet when the results are great hair. :)
LOVE
This might be my favourite shampoo and conditioner I've ever tried. Cleans the hair well and the conditioner leaves hair super soft and not oily like I've experienced with other natural products. This particular bar keeps my blonde hair looking bright too! Coming from someone who was very skeptical, I 100% recommend these.