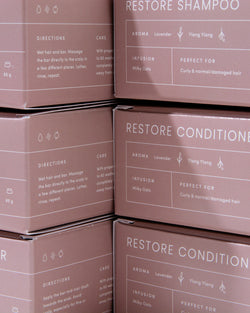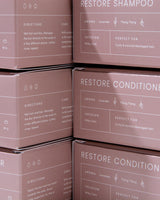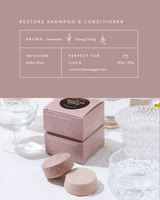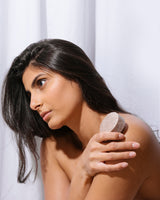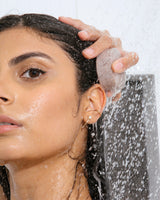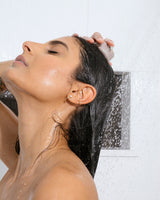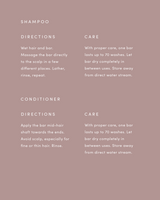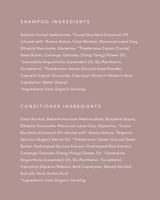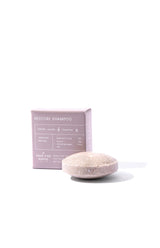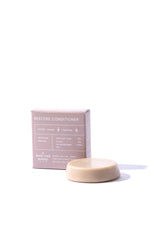 Restore dry and damaged hair. Rich in trace minerals Moroccan clay and milky oats help remineralize and condition, leaving healthier looking hair. While pro-vitamin B5 adds shine, body and bounce. Argan oil nourishes the hair and our unique anti-frizz technology will leave the hair silky and soft. Pro-vitamin B5, hydrolyzed quinoa and rice proteins protect colour treated hair and enhance the hair's natural shine and body. 
With proper care, one mini shampoo last up to 39 washes & one full size bar last up to 90 washes. One mini conditioner bar last up to 30 washes & one full size bar last up to 65 washes.
Aroma | Lavender & Ylang Ylang 
Herbal Infusion | Milky Oats 
Perfect for | Thick, Curly, Normal, Dry/Damaged Hair & Colour Safe
Amazing products for curly hair
I purchased the Restore set, and have used it several times.  I will admit, I was skeptical about trying High-end Hippie, as my last experience with shampoo and conditioner bars was not a positive one.  I have curly hair, and it was a disaster, to say the least.  These products are different!  I absolutely love how my curls are responding to both Restore products.  This set is perfectly suited to my curly hair, with no frizz, and my scalp is happy too!  Additionally, the products smell heavenly! I'm thrilled that this is a Canadian company. Of course, the best part is that these products eliminate the use of plastic bottles, which is fantastic! Thank you for creating such an amazing product.
Worthy investment
I tried this set after seeing so many great reviews, online and on social media. I was pleasantly surprised when the package arrived as to the size of the bars for the value that you spend. When, using in the shower, I was astonished at the amount of lather that the shampoo bar had, and how creamy it felt in my thick, dry wavy hair. The conditioning bar took a little bit of work to melt in but overall my hair has felt shinier less greasy with consistent use. The scent is earthy without being overpowering and doesn't leave the hair with a perfume the way other shampoo bars can. Overall, I would say this is a more sophisticated, eco-conscious brand and set to purchase if you are looking at reducing your footprint and opting for more sustainable options.
Great products.
So handy for travelling as you can put it in your carryon luggage when flying.
My only hair product
I have been using the bars for about two years now and won't ever switch back to those old products I used to use. I was using high end expensive shampoo and conditioner but now I love the bars way better and will never switch back.
Pleasantly surprised
I was skeptical that they would actually do a good job on my hair. I have thick, wavy hair. But I used them for the first time this morning and they were great! Lathered up nicely and did a wonderful job. Thank you!
Thanks for taking the time to share your experience, Renee! We really appreciate it! A