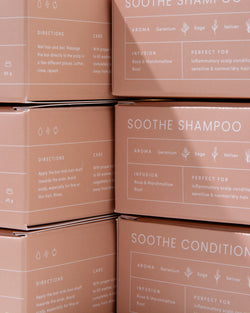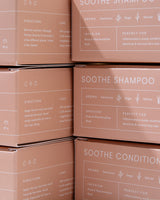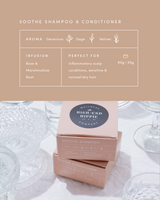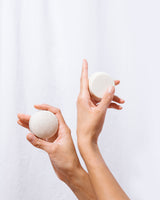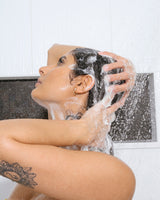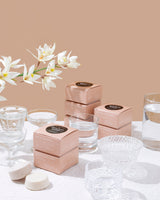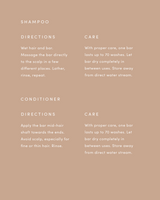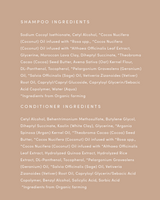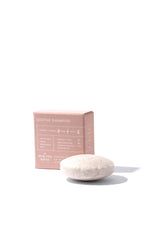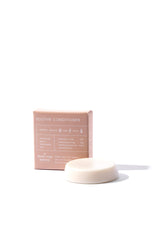 Suffering from eczema, psoriasis or dry itchy scalp? Relieve inflammatory scalp conditions with the calming botanical infusion of rose & marshmallow root. While colloidal oatmeal is gentle on the most sensitive scalps. Argan oil nourishes the hair and our unique anti-frizz technology will leave the hair silky and soft. Pro-vitamin B5, hydrolyzed quinoa and rice proteins protect colour treated hair and enhance the hair's natural shine and body.
With proper care, one mini shampoo last up to 39 washes & one full size bar last up to 90 washes. One mini conditioner bar last up to 30 washes & one full size bar last up to 65 washes.
Aroma | Geranium, Sage & Vetiver 

Herbal Infusion | Rose & Marshmallow Root 
Perfect for | Inflammatory/Sensitive Scalp Conditions, Normal/Dry Hair & Colour Safe


Love love love
My hair feels terrific. Thicker, stronger, I love that there is no waste! And no plastic bottles.
I'm so glad I found this!
I have a reactive, itchy scalp. I can't use most shampoo and conditioners as everything aggravates it. I've recently tried this set and I will never use anything else! I can't believe how calm my scalp is now. Thank you for making this. You have saved my scalp!!
Bye Frizzy Hair, Hello Wavy Hair
I used the clarify set first after transitioning away from drug store shampoo. Once I had about 2 weeks of washes under my belt, I switched to the soothe set and I am very happy with the results. I air dry my hair and I'm finding my hair to be less frizzy. My hair was a little wavy before but since switching I have waves in places that I didn't realize. Other benefits: And the smell is lovely, I have less dandruff, and dry spots on my children's scalp are reducing/gone.
A friend recommended the shampoo and conditioner bars to me maybe a year or 2 ago and ever since trying I will not use anything else. It makes my hair feel so soft and smooth I love it so much I couldn't believe it. My husband and I both share the bars.
Newbe
I recently purchased the soothe set. I have only used it twice but so far I really like it! It lathers better than I thought it would and leaves my hair very soft. It dries faster to. I am currently washing my hair a little more frequently than I usually do but that is just how my hair works when I try new products. I will most likely keep ordering it
Thanks for sharing your experience Angela we really appreciate it. Amy